Its human's tendency to prepare for the worst while taking forward a new step and this ideology is quite promising!! This explains it all about taking a backup before cloning the website. Backing up the data will save individuals and websites from disruptive digital disorders. For such disasters not to happen with us, it is extremely important to take a backup. Before learning how to take a backup, lets first understand what are the necessities to go for a website cloning?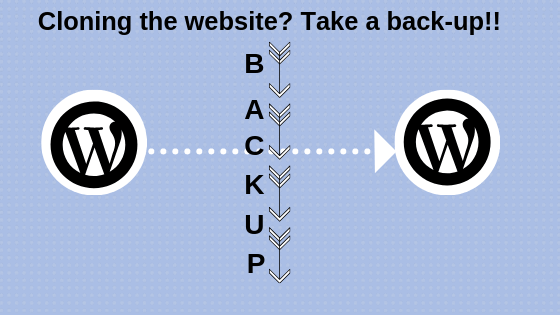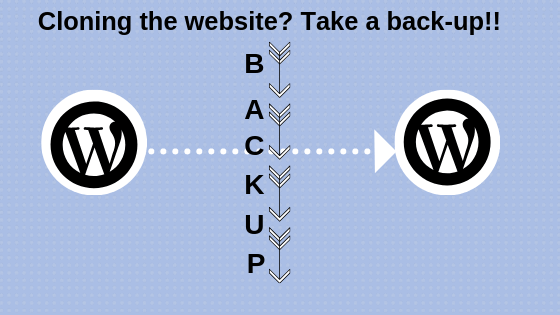 Why do you have to clone a website?
Cloning a website is not an easy task as it involves, physical, mental and financial toil in it! These three factors may affect an individual who is cloning the website and there is always a place for a human error.
Too much of load or an erroneous code write up or a technical outage may compel the server to breakdown. If the server breaks down, a website's data may be lost forever.
If the admin of a website plans to get modifications done on the site, there is a higher probability that related professionals get access to the site and lack of understanding may lead to data loss.
Any site owner who foresees this kind of happenings would want to get their sites backed up before going for any modification as foresight holds good anywhere.
What does it involve in taking a backup?
Data professionals suggest two crucial criteria to be met for a backup.
Data to be stored in more than one location
It should be created in regular interval
How to back up a website?
1.Plugins do the job: Are you surprised? They really do! You might be wondering about the plugins that create a backup for websites but there are people who created such amazing plugins Ex: Updraft Plus, BackWPup, BackupWordPress are classic examples of such plugins. Just download and install them on the site and they work for you.
2.Your host can back up your website: Web hosts also facilitate their clients with backup services. Depending on the host, you may be privileged with a couple of backup tools such as A2 Hosting…Get to the control panel or the settings page of your host to find the available backup tools.
3. Place your website on cloud manually: This may intimidate you but it is not as complex as you think it to be. Get straight access to your web server irrespective of whether it is through a hosting account file manager or an FTP. Illustrated videos will help perform this task.
A website is no less than an asset and safeguarding it is extremely crucial to stay at peace of mind. Ensure a website back up before any of the above-listed scenarios where you have to clone your website while keeping it protected.