If we analyze why WordPress has become so popular among the web designing masses, the instant answer would be its ''ease of use''. The number of web designers that emerged like mushrooms in the past decade can prove this statement. Apart from its user-friendliness, WordPress offers innumerable plugins to simplify users' jobs. The more the angles in web-making, the higher the concepts of plugins are. This article's intention is to put light on one of the amazing plugins that have been simplifying the mere user's work. Let us know about the plugin ''Duplicate Post'' to duplicate WordPress post.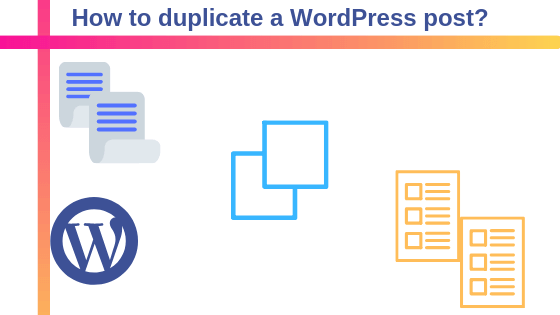 This plugin is used to duplicate or clone a particular post in WordPress sites. First of all, let us understand why do we need to duplicate a post. Let us suppose a user formats his WordPress page to appear in a particular way. The same format may be required in creating a new post. Though the concept is same, the user may have to invest his time over and again. If the user has created a model post and repeats the same post every time with different content in it, it would be a smart idea. Copying the formatted page is no big task, however, if someone can instantly do the job for you, that definitely reduces the toil. And that someone is ''Duplicate Post''. Let's know how to duplicate a post or page with the help of the plugin.
Duplicating or copying or cloning a page:


Download the plugin Duplicate Post
Install in on your site
Select posts à All Posts à Hover on ''Post''
Clone and New Draft options appear
To duplicate a post, click on ''Clone''
A newly copied page would appear with the same title
Just delete the content and fill in it with new content
You can add a prefix or suffix to the title of the duplicated post to understand that it is the cloned post.
Google may charge you for Plagiarism if the content is not removed:
Though duplicating posts has become considerably easy with this plugin, google may penalize if the user forgets to delete the copied content in the new post as the search engines may find it duplicate. Ensure that the content is deleted.
We keep updating you about the useful plugins that add value to your website making and do let us know your feedback in the message column.