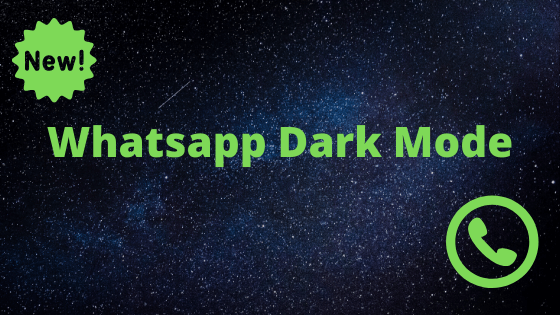 Whenever WhatsApp releases new features, there is a buzz all over! However, the details of the features that are going to be launched are leaked many times.
Rumours are rife that this time the social messaging app will launch the dark mode featurefor which many of its users are still waiting.
Why ever the rumours are in place, WhatsApp has not confirmed the news or at least the tentative date by which the feature will be ready.
The news is that the social messaging app is working hard on this feature to ensure that its users have a bug-free experience.
Many users have got this feature updated in their mobiles. However, the new feature has not come into existence even on the beta version yet as the WhatsApp team is still working on it as stated earlier.
Dark mode is nothing but an un-illuminated interface. If you are an avid Instagram user, you may understand the dark mode as they recently equipped this feature.
Generally, we all use black text on a white back ground. But dark mode is exactly opposite to that.
As there is consensual opinion growing day by day across the developers of operating systems, websites, themes and apps that the bright screen glow can cause harm to eyes eventually.
Just to soothe the eyes, it is a great solution to use dark mode as opined the people who constantly work on glowing gadgets.
WABetaInfo, the renowned outlet that strictly analyses beta and alpha versions of coded bits or software has given insightful information about whatsapp.
In an attempt to create awareness about the software's new features, they announced in September that Whatsapp is progressively working on dark mode.
Since then people who extensively work on bright screens are looking forward to switch to the dark mode on android phones, iphones and others.
And the time finally arrived to use this feature on everyone's smart phones.
How to switch to dark mode:
Go to the settings — Chats — Wall Paper — Solid Colors — Pick a color of your choice — Set
And that's it. Immediately test it on your screens. It starts appearing.