Manage all your WordPress Sites from Single Location (Self-hosted WordPress websites or wordpress.com websites ), Manage from the cloud, or from one of your website or from wordpress.com or using Desktop, mobile App.
Manage Themes, plugins, core Updates, backups, clone, security, comments, create/edit posts,  and much more tasks for all your WordPress Websites, from single location.
If you have multiple websites or If you are an Agent, Freelancer who Manage your customer Website this Management tools will save lot of time spent on WordPress Maintenance.
There are multiple way we can Manage Multiple WordPress websites from single location
Manage form Cloud – i.e. the remote location from where you signup 
From one of your WordPress Installed site
At WordPress.com, Desktop, Mobile App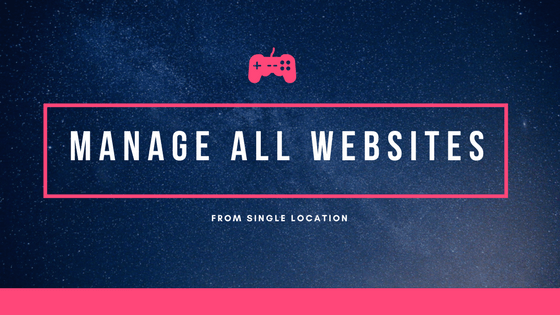 Basic tasks
Update WordPress Version with single click for all your websites
Install, activate, deactivate, delete plugins
Change, update, delete Theme
Backup
Read all your Website comments form single location
login to your websites dashboard with a single click
these are basic things, some tools do much more, like Automatically take backup, Security Checks, Check Website performance – page speed insights, uptime monitor  ( reports if server downs ), Analytics, SEO, create restore points, Migration and much more ..
If you are an Agent, Freelancer you Can Manage all your customer's websites from the single location. can create custom Dashboard, whitelisted reports.
ManageWP is one of the most popular for its user base, Its Dashboard / UI make things easy to get started and Manage all your sites.
ManageWP is free for unlimited Website, Can handle most of the things with free version.
Some features there is free, paid versions. can take advance by adding a paid add-on.
e.g. like you can take monthly scheduled backup, 1-click restore with free version, with paid backup add-on which is $2 per site per month per site, can take on-demand backup, cloning, migration, send backup to an external destination like Google Drive, AWS S3.
If you have large number of website, or if you are an agent, freelance you can take advantage of taking bundle package – instead of paying $2 per backup addon, can take $75 for up to 100 websites.
or instead of paying for each bundle, pay for – all in one bundle package for $150 per month – for up to 100 websites – this includes several add-ons
more information at ManageWP Pricing page
If you are already GoDaddy Customer, instead of signup for ManageWP, you can signup for GoDaddy pro for free, Some of the paid features in ManageWP are free if your website is hosted in GoDaddy.
Signup for GoDaddy pro user is free, just like ManageWP can take advantage of paid add-ons, if you are already GoDaddy customer it better to add your sites from GoDaddy pro and manage your bills easily.
ManageWP access your Website by using Worker plugin
While Adding WordPress site in ManageWP Dashboard, if you have given your WordPress Website username and password, ManageWP installs 'Worker plugin' on your Website. or instead of adding username, the password you can install Worker Plugin by your self, and while adding Website in ManageWP Dashboard add the Access key.
WordPress.com – Jetpack
Install Jetpack on your self-hosted WordPress website, then connect your website to wordpress.com account. That's all, you can mange your self-hosted website form wordpress.com or you can install Desktop, Mobile WordPress App ( know more about calypso )
If you update to premium plan, you can take advantage of taking backups ..
Jetpack is not just for Manage Multiple website form single location, its have wide range of features. like lazy loading images, image cdn, related post
It basically connect your site to wordpress.com, and from wordpress.com you can mange all the connected site.
here – wordpress.com access your self hosted websites using Jetpack plugin.
With the free Version of Jetpack, you can update the themes, plugins, write, edit posts,  Analytics and much more.
Jetpack is really a great tool to Managing WordPress Site – build, Manage, secure.
Jetpack services include Content Delivery, Security Services, Ad program, lazy loading images
While coming to Manage Multiple WordPress Sites it does something using WordPress.com – which are great. ( but it lack some feature when compare with alternates )
So our suggestion is, If you are already using Jetpack, then instead of adding another plugin in your WordPress use Jetpack and access all your sites from wordpress.com from browser or form WordPress Desktop, Mobile App
unlike ManageWP – where your dashboard is in their premises .
MainWP Dashboard is on your WordPress Website,
It might be one of your main site, or a sub site create especially for Managing sites,
or even you can Create your Dashboard in localhost.
by installing wamp, xampp, mamp server,
or create your own server and install WordPress by using Apache, PHP, MySQL
MainWP Dashboard : install this plugin to get Dashboard to Manage WordPress Sites
MainWP Child : Install this plugin on all your WordPress sites to connect to your Dashboard.
MainWP Pricing
Free tier comes with several features like adding unlimited website, Manage Plugins, Themes, Manage Content of all your WordPress sites, 1-click admin access to your connected sites, taking backup ( multiple options ), uptime monitor and more.. ( Free Features, Add-ons )
can buy Add-ons, or all take membership plan
More tools
Conclusion
There are many tools out of this list, but we found this are top 3 tools for Managing Multiple WordPress sites.
Instead of taking decision from top 10 WordPress Management Services, or from top 100 list – this are the best What we found.
Find what suites for you based on your Who You Are, How Many Websites you have to Manage, are you Interest in paying Monthly, one time fee.
ManageWP is one of the easy option to get started, mostly you will like their user interface. Dashboard is hosted by ManageWP,  premium features are monthly bases and per site. ideal for individual users, agents
If you, or your company have enough Money to spend and it okay to pay monthly bills – then go for ManageWP ( wish you will like there User Interface ), Easy to use, Easy to Start, Easy to Maintain
MainWP is one of the best tool to Manage WordPress sites, Dashboard is on one of  your WordPress Website. Free for Adding Unlimited WordPress Websites, and there is Monthly, Yearly,  lifetime membership plan to use paid extensions.  ( can pay for selected extension ,  or for all extension ). . ideal for Agents, individual users
If you are Agent, and don't like to spend Monthly bills, and like to keep Dashboard form your own website, then MainWP is best choose.
If your are already using Jetpack, instead of adding another add-on, simply Manage all your WordPress sites form WordPress.com, or installing WordPress App on Desktop, Mobile, and can manage easily. Jetpack does great of what it does. Ideal for Individual users for managing multiple wordpress sites.
In case if we miss any of the best tools, please comment ( please add only if it works great then the above list )