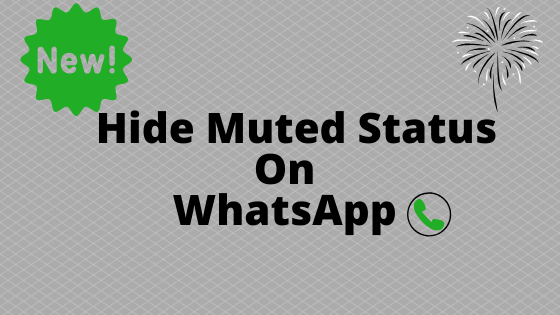 WhatsApp rewards its clients with brand new functionalities in regular time intervals. If the users have to analyse the apps of initial days and the current one, the software has gone through a lot of transformation. It has been a decade of WhatsApp's inception and its clients have increased multi-fold to be 1.5 billion plus users. It is not overstating if we have to say that WhatsApp is installed on every smart phone these days. The messaging app usually makes the beta version available for its users before the launch to explore the new features.
What's so new about WhatsApp?
The social messaging app has brand new features as hide muted status, self-destructing messages, block group admin, call waiting, Bio-Metric Authentication, Document Sharing etc. This article is to explains about the 'hide muted status' in detail.
Hide Muted Status
The all new feature WhatsApp is going to launch is "Hide Muted Status"! This new feature allows the users to mute the status updates. WhatsApp is going to make this available in the android version and the other versions are also expecting the update soon. Users need not bear the status updates of people in the contact list anymore. It is their choice to see the status updates or not. If they don't want to view the status updates of their friends in the contact list, they can mute or hide the status updates. It is as simple as that and no Whatsapp plugin is required for this task.
How to use 'Hide Muted Status?'
To enable this WhatsApp feature , the users need to tick on "hide" that is present on the top of the section of muted status updates. It can be changed to "show" either if it is to be seen. Show or hide is completely the users' choice. Every contact can be set accordingly.
Tap on Status –> Select a contact which you want to mute for a few seconds –> Tape on Mute on the message update –> The contacts muted are under the list 'Muted Updates'.
Uses of the 'hide muted status':
Notifications keep bothering the users when they are at work or sleeping. To avoid nuisance, WhatsApp has created this interesting feature. Isn't this amazing. Let us know if you like this new feature of WhatsApp for which people are waiting for long time.