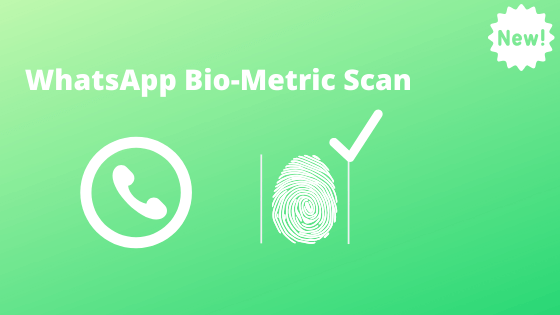 A simple app became a sensation in information technology world in no time and is ruling the world with 1.5 billion plus users across the globe. It is not an exaggeration to say that this is one of its kind apps to garner such a huge adulation from worldwide users. WhatsApp leaves no stone unturned to make it even more user-friendly. It launches new features in regular intervals to update its users technically in the process of adding value to WhatsApp chat. WhatsApp biometric authentication is one such a new feature of the app.
The social messaging app declared the launch of a brand-new feature on android phones through finger print sensors for safeguarding the users' privacy. WhatsApp says that the devices working with Android operating system will soon acquire the said privacy feature to secure their accounts with the help of fingerprint authentication. However, the Android devices should have a finger print scanner in order to keep the feature working.
The Facebook-owned messaging app has brought in the bio-metric authentication system for the Touch Id and Face ID of Apple. All of the iOS 9 and above iPhone devices are compatible to this feature as they have finger print scanners in them by default. If iPhone users have to open WhatsApp on their devices, they can prompt, touch ID or face ID for unlocking the app.
Similarly, WhatsApp has brought in the feature for Android users where you can unlock your account with your finger print if your phone supports the finger print feature. To avail this feature on WhatsApp,
The bio-metric authentication is the new WhatsApp feature along with 'hide muted status, call waiting and Self-destructing messages, group invite blocking, documents sharing, etc.!!
How to add Bio-Metric Authentication to WhatsApp?
Tap on Settings –> Account –> Privacy –> Finger print lock –> Turn on the finger print lock –> On the unlock button with finger print and give your finger print to the device to confirm it.
Set the time interval by choosing between Immediately, After one Minute and After 30 minutes options.
That's it, this sets the finger print scanner option on your WhatsApp account and you don't need any Whatsapp plugins for this purpose. Lock your phone with your unique finger print and enjoy your privacy.
Currently, this feature is available in beta versions. But WhatsApp has not made it clear as to when they will officially launch it. The chat app always releases its features in beta versions and makes it available for users. Catering to the feedback it receives from users, it develops the features to perfection and then launches officially. So, lets wait for the bio-metric authentication feature to officially join your mobiles and till then keep enjoying the beta version.