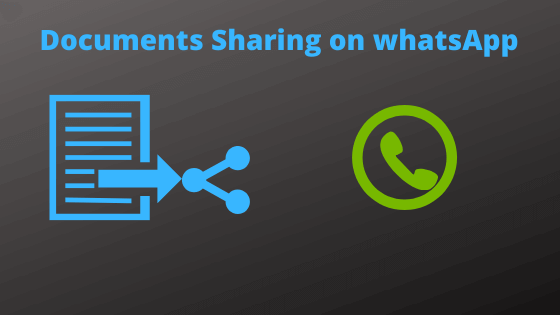 WhatsApp has tremendously improved from what it was initially available. Though it has been 10 years of its inception, the app has been growing desirable day by day.
Many features have been added to the basic app and the process of updating the app is still continuing. The Document sharing along with 'hide muted status, bio-metric authentication, call waiting and Self-destructing messages, group invite blocking, etc. are taking the Whatsapp Reputation to another level!!
Being a chat app initially, WhatsApp has grown to be a calling app, a location sharing software, and now a document sharing app too. The makers are planning to make it a payment app too.
It is replacing mailers with its document sharing properties. It is extremely simple to share documents on WhatsApp now. you don't need any whatsapp plugins to do this job.
How to share documents on WhatsApp?
Get into the contact with whom you want to share the document
Tap on the pin icon on the right side of the message bar
Tap on document, the first icon of the 6 options
Choose the document you want to share
Tap on send and that's it.
Your document will be shared in seconds be it a PDF or a Word
The document sharing feature was earlier available in beta version and now it is officially available on WhatsApp with the other new features such as hide muted status, group invite blocking, self-destructing messages, call waiting etc.
You don't need to login to your mailer and type the email address of the person to whom you want to send the email. The document sharing is much simpler in WhatsApp than Yahoo or Gmail.